Choosing an area rug for your living room: 7 helpful hints
Feb 20, 2019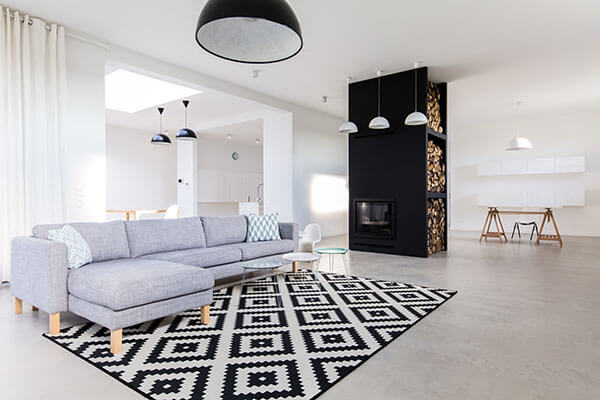 Few interior design elements are as transformative as an area rug, and this is especially true in the living room. Whether serving as an artistic focal point or as a complement to your current furniture, an area rug can complete your living room decor. Given the expansive and varied range of styles, colors, sizes, textures and shapes they come in, it can be overwhelming to choose an area rug. It is not a decision to take lightly. After all, an area rug can change the whole look and overall design of your living room. To make it easier to decide which area rug is right for you, consider the following seven factors.
Lifestyle
The first step in your search for the perfect living room area rug is to reflect on your lifestyle and ask yourself the following questions: How often do you and your family and/or friends plan to hang out in your living room? Will your children and/or pets be allowed on the area rug? Is the area rug more for décor purposes or comfort? Realistically, how much do you expect it to hide wear and tear (like from heavy foot traffic and/or wine or juice spills)?
Let your lifestyle guide you in selecting what kind of area rug will be the most functional and suitable in your living room. Let's state the obvious: if you have kids or pets, or plan to use your living room to entertain often, then a white or silk rug is clearly not an option. However, it could be the perfect choice for a luxurious living room that will mostly be appreciated from afar. You can narrow down your options based on the material and color that best suit your living room whether it will see a lot of guests or a few.
Rug texture and material
When choosing an area rug for your living room, it's not only about the look. It's also worth considering how it will feel underfoot. While thick wool rugs will add a soft, warm feel to your living room, natural materials, like the eco-friendly jute, will be more coarse. Texture depends on the type of material, which, as mentioned, goes hand in hand with your lifestyle and how much foot traffic your living room will experience. At Rugs.Shop, we offer a wide variety of different materials that feature appealing and varied textures. From area rugs made of wool, acrylic and cotton, to natural materials like jute, sisal, seagrass and hemp, to nylon, polyester, rayon, silk, polypropylene and more. All materials vary in their degree of softness, stain-resistance, durability, maintenance demands and price. The one thing they do have in common, though, is their beauty.
Color
Like with any flooring product, color is an important element when choosing an area rug for your living room. It's not just a matter of personal taste; the color of your area rug also sets the tone for the look of your entire living room. But which color? Before getting lost in the multitude of color choices, not to mention multi-color combinations, take a look at your current living room. If you already have furniture, consider what color(s) will work with your existing furnishings. If your current living room décor features many different colors, or varying shades of the same color, then an area rug with a single color or with neutral tones would be tasteful. Meanwhile, if your living room is unfurnished, think about which rug colors would work with the tones of the existing floor, walls, and ceiling.
Pattern
Ask yourself whether you want the area rug in your living room to stand out or blend in with its surroundings. This is where patterns come in. Whether bold or subtle, you can find patterns that are modern, classic, vintage or casual. Make a statement with designed patterns that are free-form, art deco, even whimsical in style. The sky's the limit with patterns. If your living room does or will see a lot of action, why not go for an area rug with an interesting pattern. Not only will it add character and design to the room, it will also help hide dirt, wear and tear.
Size
The size of your new area rug matters, as it will affect the overall look of your living room. This is why it's important to select the right sized area rug. While rugs that are too large can overwhelm a room, rugs that are too small may leave your living room looking unfinished or poorly designed. To know what that proper size is, it's recommended to find a rug that accommodates your living room's seating area instead of the whole room. Also recommended is to leave an equal amount of exposed floor around your rug, so pick a size accordingly. If you don't find the size you're looking for, you can always have one custom made.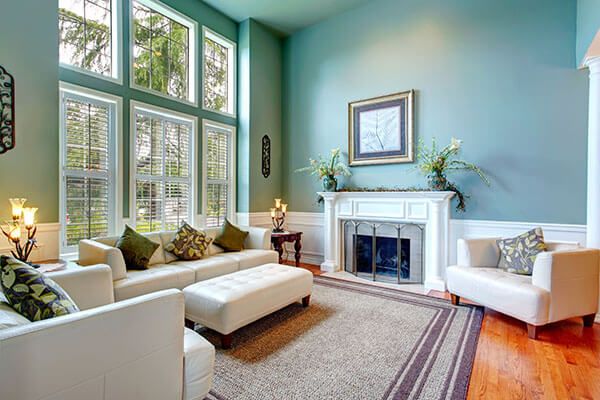 Style
Whether your living room currently has tile, hardwood or wall-to-wall carpeting, an area rug can give it a finished look. (Not to mention, it can help protect the flooring underneath). Depending upon your living room's current decor, you can choose an area rug that will either complement it or define whether the overall tone should be casual, contemporary, traditional, or a blend of the latter two. No matter which of the many different styles you choose, one area rug has the power to change a room from modern to traditional or from contemporary to classic. And if you can't decide on just one color or pattern, consider layering multiple area rugs on top of each other for a trendy living room.
Maintenance requirements
Before buying the most luxurious and intricate area rug for your living room, you may want to consider how much time you'll have to invest in its care, not to mention how much patience you'll have to make sure your household commits to preventative maintenance. While all area rugs will require care, some materials require more than others.
Think about whether you have the right vacuum cleaner. While all types will remove dirt, some may tear or loosen your area rug's fibers, depending on the area rug material. Do you prefer an area rug that is machine-washable or one that has to be dry cleaned? How often does it need to be cleaned? How stain-resistant do you need your area rug to be? Answer these questions before you decide on what type of area rug to purchase.
The Bottom Line
An area rug is a versatile and surefire way to add character and beauty to your living room. Check out Rugs.Shop, where you'll find a large variety of area rugs in many different sizes, colors, patterns, styles, materials and brand names. No matter which one you pick, it will perfectly complete your living room.