Fall Decorating Ideas for Your Home: Wreaths, Centerpieces, Color Palettes & More!
Sep 18, 2018
If the thought of decorating your home for the fall months conjures up little more than jack-o-lanterns & Halloween ornaments, we're here to help expand your horizons!
More broadly, fall is about establishing a connection between your home and the natural environment and capitalizing on the rich, warm autumn colors of the foliage and harvest.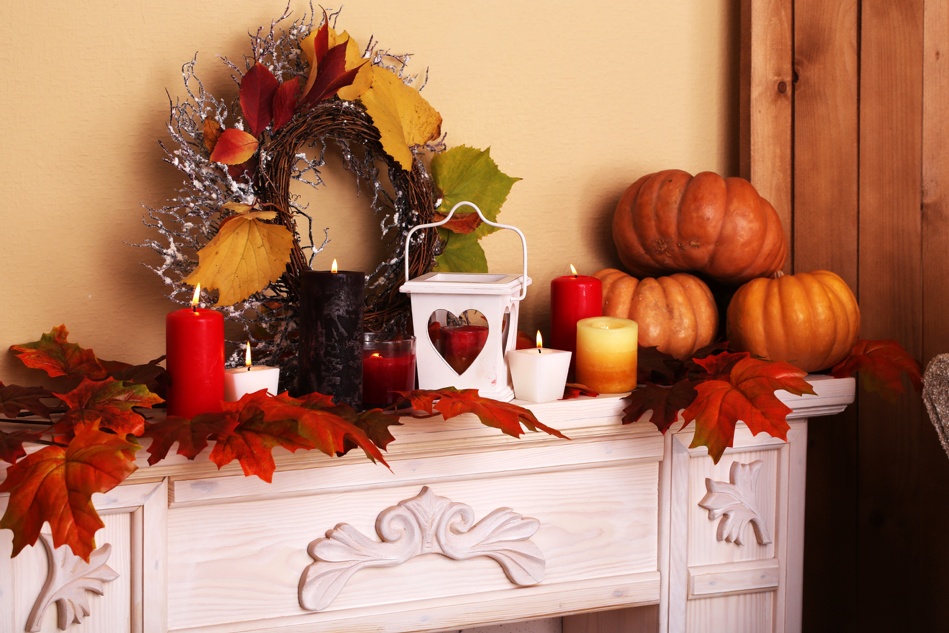 Pumpkins, wreaths, candles and leaves in warm autumn tones are the perfect way to spice up a neutral backdrop.
That fiery spectrum, the brilliant reds, oranges, yellow, golds and browns reminiscent of deciduous leaves as they turn, are one of the keys to bringing the beauty of autumn indoors. If the room you're decorating leans more monochromatic, then you've got the perfect blank canvas. Small pops of bright color is all it takes – vases, pillows, curtains, and area rugs in those fall hues are perfect for this.
The other key to decorating for autumn is the incorporation of natural elements, from leaves to pumpkins and other garden picks. This opens up the door for some great DIY fall decorations, so we've put together some of our favorite easy ideas below.
Dressing up doors
Two popular DIY fall décor ideas are also quite simple, allowing for a ton of creative freedom!
Wreaths aren't just for Christmas – you can dress up doors, windows and walls with festive wreaths all year-round! Creating a leaf wreath is as simple as gathering natural materials from your backyard. For a project like this, start with the basics – you'll need only a few materials:
A foam wreath form (available at your local craft store)
A collection of autumn leaves in the colors of your choice
A few dozen small wooden cubes
A hot glue gun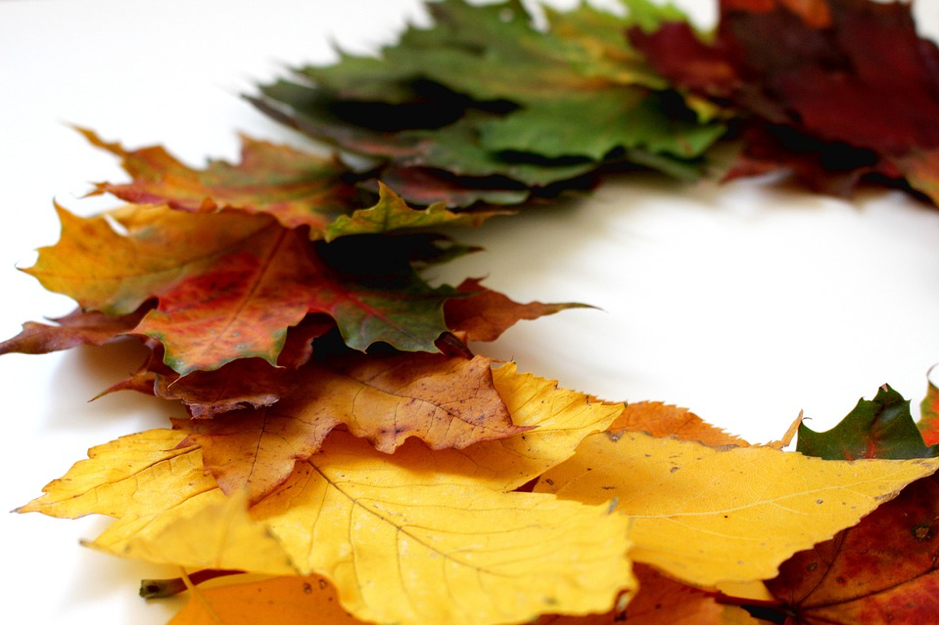 Wreaths can be simple…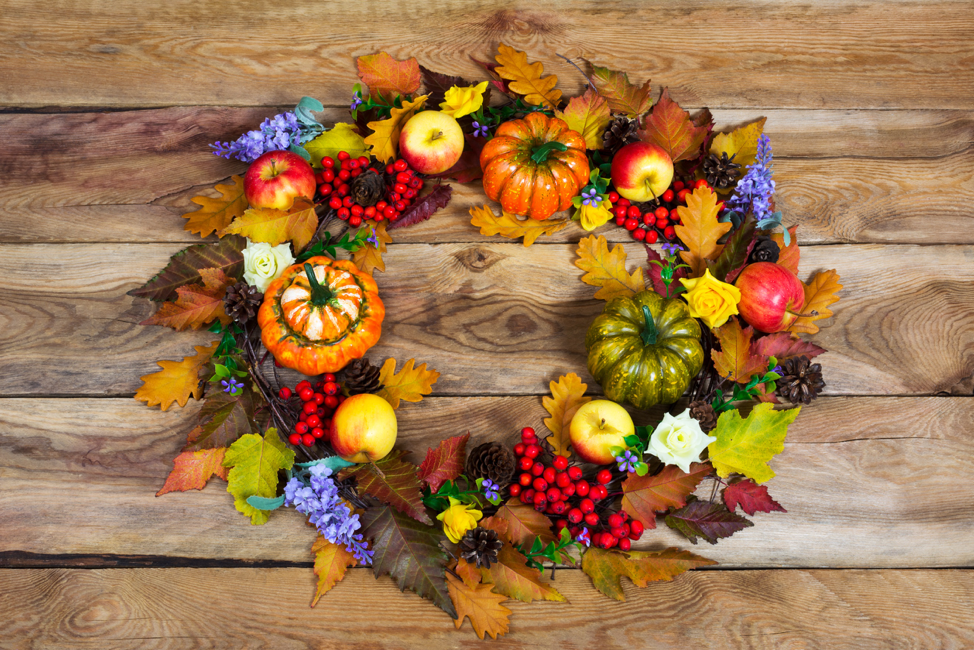 Or quite extravagant!
Apply hot glue to the leaves and press them against the wreath form for near-full coverage. Adhere leave to the surface of the cubes, and glue them to the form as well for a more full, 3D effect. If you want to make it flashier, you can make an apple wreath or harvest by gluing other materials such as:
Small apples
Small pumpkins (such as Cucurbita pepo)
Small pinecones
Berries and other colorful fruits
Deck out your table
Central to any Thanksgiving meal are fall centerpieces – and you can easily craft one using any of the following materials:
Ripe fruits & veggies are vibrant as flowers! Try freshly picked apples, squash, or gourds.
Dried plants work well, too – dried Indian corn, straw & pressed autumn leaves
Carve out a pumpkin as a centerpiece vase, being careful to remove all seeds

If you'd rather avoid the mess, a nice neutral antique pitcher will do the trick!
A tray to contain all of your autumn objects also makes your centerpiece portable!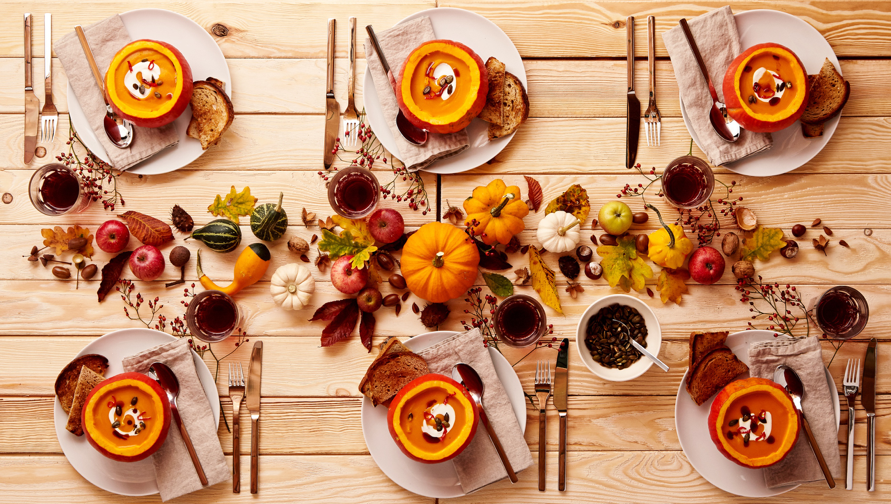 A centerpiece doesn't have to be complicated – simply arranging your items directly on the table is a great way to bring some natural character to your décor!
Subtle touches 
If you're looking to keep things casual, but still want to get in the spirit of the season, you can opt for placing a few fall ornaments throughout your home. A pop of pumpkins is really all it takes to make a room feel a little more like fall – no need to go overboard!
You can even dress up your pumpkins – and carving is far from your only option! Try painting instead, or pressing dried leaves onto their surface with mod podge or hot glue. Pumpkins not your thing? Apples, pine cones and other natural objects also make for wonderful outdoor or indoor fall decorations.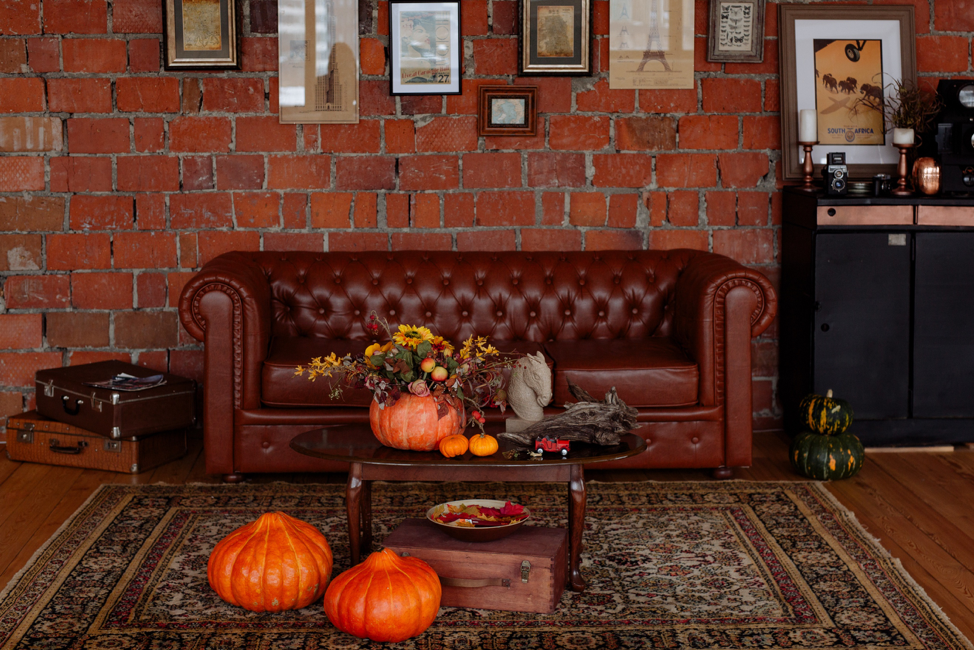 In this room, the pumpkins are central – but you can place them more casually on side tables, steps or mantles. You can also opt for neutral white pumpkins to ease up on the bright colors in your design.
Incorporating fall colors into a room
The last piece of the puzzle when it comes to fall home decorations is color – but it's arguably the most important. Pieces like indoor area rugs can be found in an array of fall color palettes, in stylish patterns that can then be used year-round!
When you're thinking about decorating with red, orange and brown area rugs, consider how different shades of these colors will impact your space. Browns and softer tones of orange serve as great neutrals, while brighter oranges and deep reds can quickly become a room's focal point.
Here are a few fall-ready rugs from the Rugs.Shop catalog:
If you want a casual touch of fall (minus the pumpkins!) try a muted palette like the patterned Kasbah by Oriental Weavers.
Don't forget about your outdoor spaces! Liora Manne Terrace Vine in Rust is a beautiful fall tone for your deck or patio.
Explore more fall rugs
That's just a sampling of a few of many orange area rugs available from rugs from Rugs.Shop. Find more indoor and outdoor rugs to complement your fall décor when you shop from the more than 30,000 high-quality rugs we carry.