Tips On How To Choose The Best Area Rug For Your Dining Room
Oct 16, 2019
Area rugs are a great way to spruce up any room, especially if you have hardwood, laminate or tiled floors. They add a personal touch of character and can tie into any interior design concept. Ever looked at your dining room and felt that something was missing or that the room looked a little incomplete? Well, a simple area rug can help transform your space, liven up the room and add an added bit of warmth, especially during the colder months. Your guest's feet will thank you for it!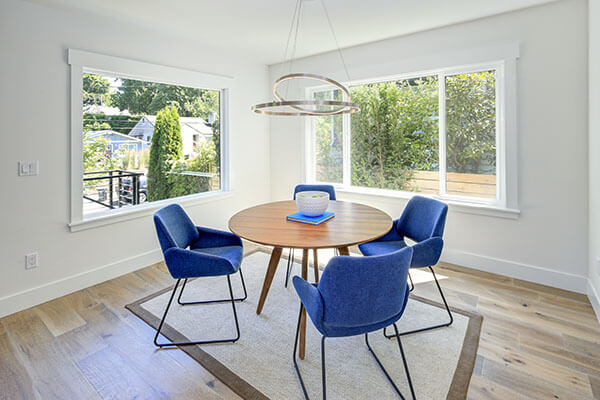 There are a few things you need to take into consideration when buying an area rug for the dining room, especially since there will at some point be crumbs, an accidental spill and of course, the dreaded scenario where your guests cannot pull their chair out comfortably because the rug is too small or the pile is too high!
It may seem overwhelming, but we have you covered with these helpful tips on how to select the perfect area rug for your dining room!
Analyzing The Space
The first and most important thing you need to do before purchasing an area rug is taking into account the size and shape of your dining room table. You want to make sure that all of the chairs around the table fit comfortably on top of the rug when they are pulled out. An area rug that is too small will cause the chairs to snag making it very uncomfortable and difficult for anyone who wants to pull their chair out.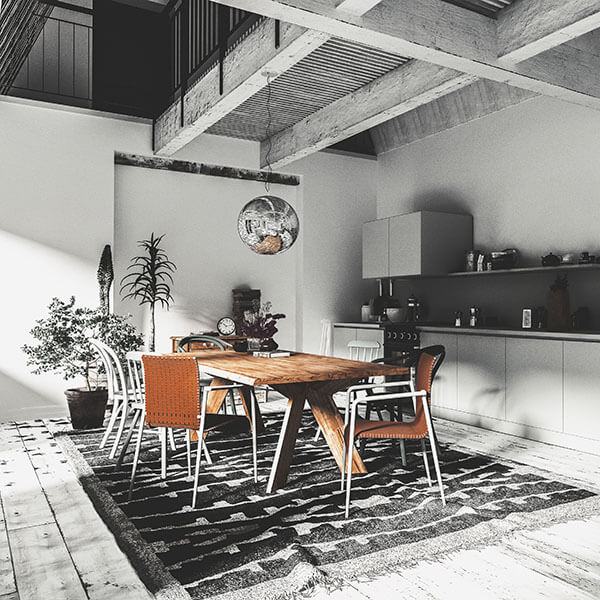 The general rule of thumb is to make sure your rug is at least 24 inches wider on all sides of the dining table so that there is ample room for the chairs to be pulled out. To ensure you buy the correct size rug, measure your dining table first and then add 24 or more inches to each side. You can mark the floor around the table with painters tape to give you an idea of what size rug you should be looking at. The tape will also give you an idea of how the room will look with the rug.
The second thing you will need to consider is matching the shape of the rug to your table. Square or round rugs pair perfectly with a round dining table. Oval or rectangular tables pair well with rectangular rugs. Square tables generally pair better with square rugs, but a round rug will also work for a more relaxed, fun look. Just always make sure you keep the measurements mentioned above in mind when selecting the shape of your rug.
Style
It's much easier to pick a rug first and then accessorize according to the design of the rug. However, sometimes that is not possible. If you already have furnishings and a color scheme, then you should pick a rug that will match what you already have in the room. Think of your rug as a piece of art you lay on the floor instead of hanging on the wall, it should complement your decor and add a unique touch of style. Oriental rugs are usually a safe choice for a more traditional and formal look, however, you will still need to ensure the color of the rug will complement the color scheme of the room. A geometric pattern rug can also transform the entire feel of the room, however, you will need to make sure the geometric pattern does not compete with any other patterns you may have in the room.
Another tip to use when looking at colors is to avoid any light or white colors, especially since there may be some accidental spills and crumbs when eating. Lighter colors are likely to show dirt and spots more than rich or deep colored rugs.
Material
Opt for a short pile or flat weave rug in the dining area, as they are much easier to maintain in the wake of inevitable crumbs and spills. Short pile or flat weave rugs also make it much easier for anyone to pull out their chair. Rugs with a high pile or thicker more fluffy material are better suited for a living room or bedroom. Another thing to consider is natural fiber such as cotton and wool. These fibers are extremely easy to clean and will ensure that crumbs don't get trapped. Sisal, seagrass and jute rugs may prove to be trickier when it comes to removing crumbs especially because of their texture.