Karastan Month: Scott Living Partnership & the Future
Sep 26, 2018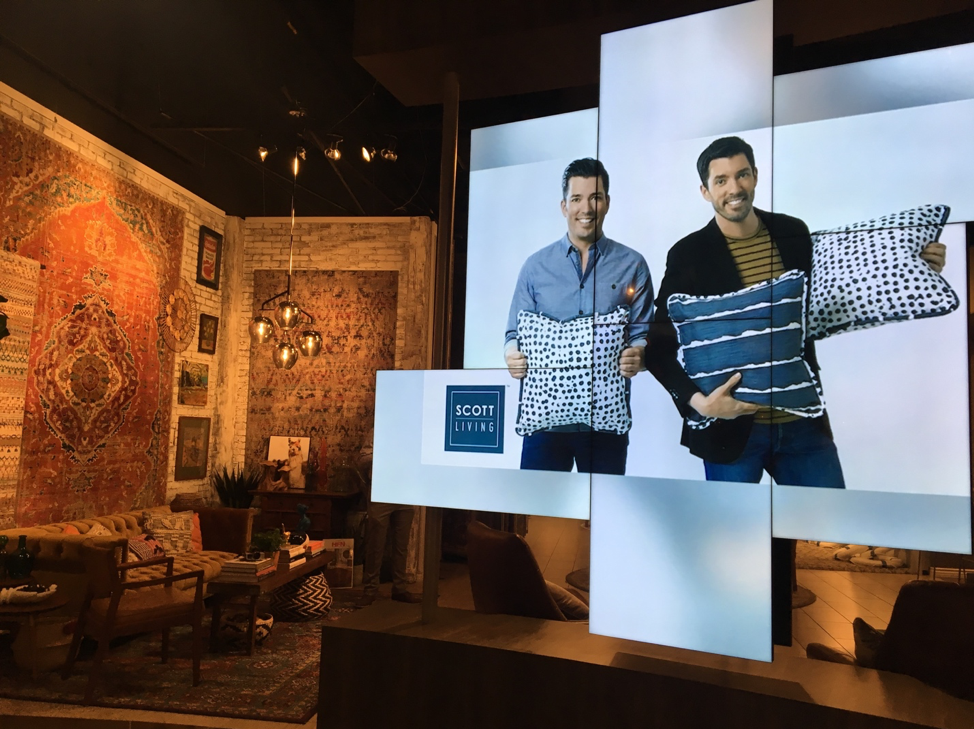 Photo by: Karastan
What's better than one? Two! Home designing twin brothers Jonathan Scott and Drew Scott announced a partnership with Karastan as part of their Scott Living Home Collection.  Jonathan and Drew are known for their popular HGTV series The Property Brothers, that focuses on helping families get their dream homes without breaking their budget. They are also recognized worldwide as architectural, real estate & design experts. Jonathan, a licensed contractor, and Drew, a real estate agent, have managed real estate holdings for nearly 15 years.
Twice as fun!
Now, Jonathan Scott and Drew Scott bring their expertise and good-humored sibling rivalry to Karastan with their stylish designs. In July, at the Las Vegas Market, they showcased 2 new Collections in collaboration with Karastan: Artisan and Expressions.  If you are attending the High Point Market in October, you will be able to see these collections promoted in the Karastan Showroom.  But we'll give you a sneak peek first, right here!
Karastan Expressions Collection by Scott Living
Photo by: Karastan 
Artisan vs Expressions Collections
With two NEW collections from the Scott Brothers, this now opens up a whole new door for customers.  They are designed with the idea of affordable luxury for anyone's home. The Scott Brothers collaborated on 21 new designs with Tracy Pruitt, VP of Design at Karastan.  If you are craving a classic yet luxurious look for your home, you'll want to take a look at their Artisan Collection.  These upscale art-deco inspired designs are based on mineral-inspired colors and illuminated with dustings of creams and golds.  Being made with Karastan's own SmartStrand Silk yarn, they are going to look luxurious and feel luxurious too.  
Style Shown: Scott Living Artisan Celeste Brushed Gold Antique White Collection
For a more casual style, the Scott Brothers designed the Expressions Collection. Influenced by coastal California vibes and made with Karastan's EverStrand recycled polyester yarn, these designs have a more modern and artistic style assortment.  We kind of dig the pops of citron and indigo colors with a neutral backdrop of gray, beige and black!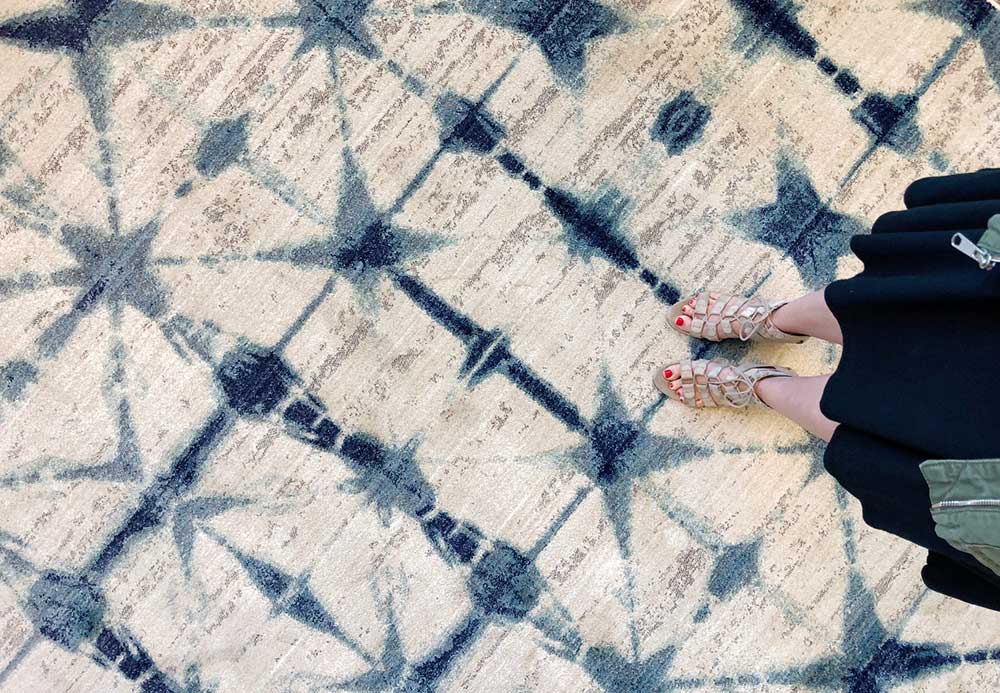 Style Shown: Scott Living Expressions Triangle Accordian Beige
What is EverStrand PET & SmartStrand Silk?
Both the Artisan and Expressions Collections are made in the USA.  The Expressions Collection is made with 100% EverStrand PET and the Artisan Collection is made with 100% SmartStrand Silk.  EverStrand carpet is the cleanest and most sustainable carpet you can get for your home.  Made with premium PET polyester fiber, it will be an area rug that resists dirt, grime and residue and it has an added layer of defense with its Scotchgard Protector Advanced Repel Technology.
Style Shown: Scott Living Expressions Elan Lagoon
Photo by: Karastan
With SmartStrand Silk, is also stain resistant and adds a perfect level of luxury to your flooring.  It's a sink your toes into it kind of softness that only SmartStrand Silk can offer! In one singles strand of SmartStrand Silk yarn, there are over 700 silk-like fibers.  When you pick up one of the Artisan Collection area rugs from Scott Living by Karastan, you will have a rug in your home that has proven superior durability.  You'll have an area rug that is stain resistant.  You'll have an area rug that is protected against pet odors and accidents.  It really is a smart area rug!
Lifetime Stain Resistant
If you're picking up a Karastan Area Rug during National Karastan Rug Month, you're picking a rug for life.  We've come across many stories of younger generations being passed down a Karastan rug.  They really stand the test of time and will be an amazing focal piece in your home.  If you'd like to see a few other NEW Karastan Collections that have come out recently, be sure to check out Cosmopolitan, Meraki, Spice Market, Patina Vie, Virginia Langley for Karastan and so many more.  Check out the full assortment here: Karastan Collection.